Wine and Cheese Day is set to be celebrated tomorrow, Sunday, 25th July 2021.  At first glance, it seems to be an unusual day to honour, so I set out to unearth the origins. For some, wine and cheese are the perfect combinations.  For others, it's a bit like Marmite!
There's a certain something about combinations – Elizabeth Taylor and Richard Burton; Sampson and Delilah; Paddington Bear and marmalade sandwiches.
Each pairing has a great story – a particular something such as romance or strength.  Or in the case of Paddington Bear his kindly, old-fashioned manners and the merger of very British staples – sandwiches and marmalade.
Curious to discover how wine and cheese became joined at the hip in our minds, I uncovered a story of science and art. Yes, I know, another combination!
The Swinging '60's
I'm old enough to remember my parents being invited to the height of 1960s and '70's social wine and cheese events.  Invariably, the closest cheese got to sophistication was to be displayed in cubes on cocktail sticks. The sticks were then stuck into a downturned grapefruit half! Thus creating a cross between a hedgehog and a Dalek from Dr. Who.
Cordon bleu cooking it wasn't.
However, delving back into history, I am relieved to find that whoever thought the grapefruit/cheese combo was a good idea probably wasn't a connoisseur of the finer things in life.
History As a Way Forward
It is probably safe to say that combining wine and cheese became a way of life for the regions of Europe that grew grapes and produced cheese.
It seems intuitive that produce of the region was used together first, as centuries ago, we didn't have the food mileage we do today.  Travel was difficult and preservation not uppermost in the minds of producers, other than to survive winter to feed everyone.
What more perfect way to eat with the seasons, than to eat and drink from the neighbourhood you live in?
For instance, I can imagine those folk living in the Champagne region of France immediately turning to Cendre de Champagne to nibble on as they toast their success.
Like the wine, the cheese ages in the damp chalk caves of the region, finishing off the aging in poplar or beechwood ash to give the cheese a smoky taste. Of course, it pairs brilliantly with Champagne, with a light mushroomy smell and flavour of a lightly smoked Brie.
For our own sparkling wines produced here in Cornwall, such as the Camel Valley, Trevibban Mill, and Knightor, their beautiful sparkling wines would pair well with St Endellion Cornish Brie.  The rich creaminess of the cheese fully compliments the delicate flavours of the wine.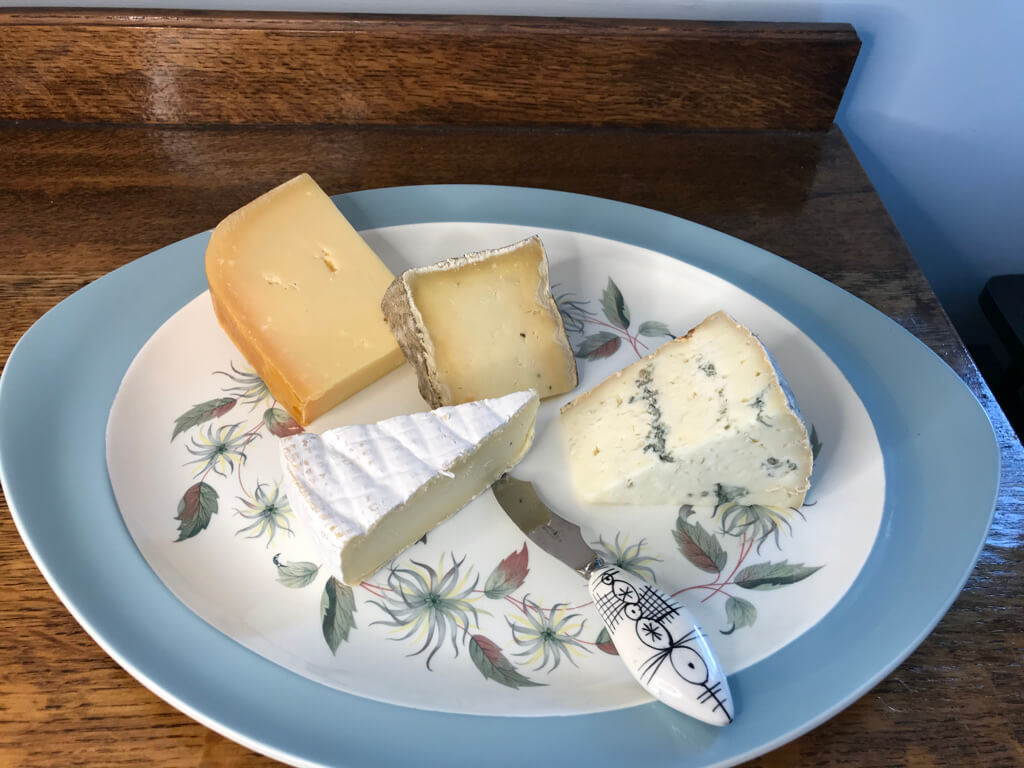 Wine and Cheese – An Italian Holiday
Wine and cheese in Italy seem to go together like … well, Rome and the Vatican City. Impossible to separate one from the other. Conjure up a pecorino toasted cheese sandwich, add a dry Tuscan red, like a Chianti and you have the perfect lunch for a lazy, summer afternoon Italian style.
Our own nod to a pecorino might be Cornish Nanny or Cornish Blue from the Cornish Cheese Co.  The Cornish Blue, cranberry and caramelised onion tart recipe from Cornish Cheese Co would work brilliantly with piquant cherries for summer.  Instead, use cranberries for a winter warmer.  Both tarts work well with a good red wine.
Or consider a Polmarkyn Dairy goat's cheese to accompany the award winning Black Ram Red from Trevibban Mill.
A Promise of Science – A Mouthwatering Thought
I promised you science and art.  The art is in being able to pair certain wines with particular cheeses.  But, how on earth does science come into it?
Back in 2012, a group of food scientists conducted a study into how food and drink pairings feel in the mouth. This "mouthfeel" creates a match in the brain triggered by opposing astringency and fattiness. It is the balance and harmony brought together in the mouth that sparks the connection.
Perception is Everything With Mind-Body Experience
This mind-body connection doesn't stop there.  In 2016 a group of researchers discovered that by eating cheese whilst drinking wine, the experience can indeed be improved.  Again, the mind observes the nuances of flavours and astringency to create its own database of combinations.
And thus begins a perfect pairing.
So, wine and cheese are not a new phenomenon.  And it would seem that our minds know more about combining food and drink than we might guess.
I don't know about you, but I am very happy to experiment with the wealth of fantastic cheeses produced here in Cornwall, along with the ever-expanding number of wines.
Do explore the different combinations of food and drink, especially the wine and cheese of Cornwall. You will often find samples of both at the Farmer's Markets held all over the Duchy, with an opportunity to try something a little contrasting to your usual go-to.
For today, I wish you' "Yeghes da" (pronounced 'yecki-da') as you shout "Cheers!" in Cornish. And enjoy National Wine and Cheese Day with a Cornish slant.
Check out our pages for more food in Cornwall and Cornish drink ideas, and why not let us know your particular favourites?