Where to eat in Cornwall is the perennial song of visitors to the county. It's especially hard to discover hidden away gems when the likes of Rick Stein, Emily Scott, and Paul Ainsworth dominate the celebrity chef scene. 
Cornwall is a big county with a thriving food scene. And, it's home to numerous Michelin-starred fine dining restaurants. However, with so much culinary excellence around, it's a challenge to discover up-and-coming chefs.
So, when a hidden foodie destination is tucked away in a quiet valley above the little-known coastal village, it's even harder!
The Barley Sheaf, Gorran Haven
Nestled in idyllic countryside, minutes away from St Austell Bay and Gorran Haven, lies the hamlet of Gorran Churchtown. It's here you'll find The Barley Sheaf.
This treasure of a pub has been around for over 185 years, tucked away and waiting to be discovered. It started off as a cozy local hangout, where miners would gather after a long day's work. Being the centre of the village it was the perfect place to enjoy a refreshing pint and unwind.
Of course, it has really only become known as a gastro pub since 2020 when current owners, Tim and Terri Kendall, took over. Still retaining its community status as the go-to place to be, the Kendall's have added fine dining to the mix.
Tim has a wealth of experience, having started his chef career with Rick Stein at The Seafood Restaurant in Padstow. Moving on to work with Marcus Wareing at The Gilbert Scott in London, Tim cemented his credentials with Michel Roux Jr's 2-starred Michelin restaurant, Le Gavroche.
Winning Awards – Chef Recognition
Returning to Cornwall, Tim continued his career with Rick Stein, winning the South West Chef of the Year Young Professional award in 2016.
January 2017 saw Tim move to the prestigious Idle Rocks Hotel in St Mawes to work under Guy Owen (now at St Enodoc Hotel, Rock).
Continued success followed, with Tim once again winning South West Chef of the Year in 2018 and being promoted to head chef at the beginning of 2019.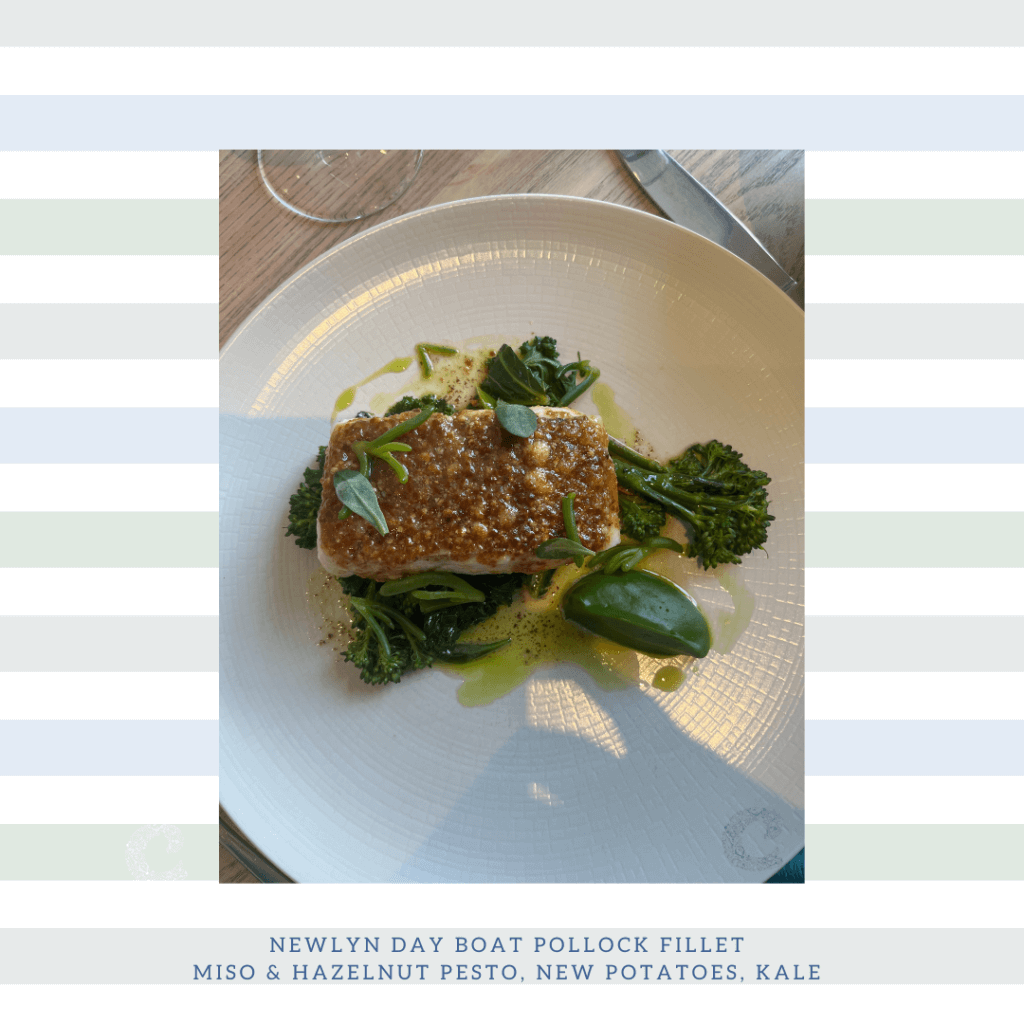 A New Era for The Barley Sheaf
Taking over the Barley Sheaf in early 2020 meant they were plunged into COVID lockdowns within weeks of opening their new venture. But, undeterred Tim and Terri turned to the local community, helping out with a takeaway food service.
While their plans took a slight detour, their vision remained strong – to head up an un-pretentious, relaxed pub serving the best quality food and drink for everyone to enjoy.
Today, the Barley Sheaf combines its history (first established at the heart of the community in 1837) as a local pub along with fine dining. As it offers locals and visitors alike a welcoming charm and warm hospitality, I would say it is more than living up to Tim and Terri's vision.
Where to Eat in Cornwall – Soak Up Local History in Relaxed Surroundings
So, what makes this a stand-out where to eat in Cornwall destination?
From the moment you enter this beautiful, very early Victorian granite-built pub it's clear your wellbeing is of prime importance.
Bright and airy, the decor is relaxed, and filled with history and character. In winter a roaring fire adds to the ambiance. In the summer months, guests can enjoy their meals in the pub's beautiful beer garden. What better way to soak up the sun and take in the stunning views of the surrounding countryside?
It doesn't matter if you're searching for a romantic meal, a family gathering, or a casual lunch with friends. You'll find the Barley Sheaf's rustic charm and warm hospitality make it a perfect spot.
Make sure to include your four-legged furry friends, as they too, are most welcome.
Small, Dedicated Team with a Passion for Excellence
The Barley Sheaf's menu is a celebration of Cornwall's rich culinary heritage, featuring locally-sourced and seasonal ingredients. Chef/Owner Tim, and head chef, Dan Hyams bring passion and expertise to every dish. Their menus change regularly and are based on what's available that day.
The menu is a real treat with options for everyone. You can dig into all-time pub favorites like fish and chips or go for the mouthwatering Barley beef burger.
Looking for something a bit special? Then check out the Kilhallon Farm sirloin steak or spinach & ricotta ravioli with spiced butternut veloute.
With such a diverse range of dishes, there's something to please every taste bud.
The pub's commitment to fresh, local ingredients extends beyond the kitchen. With an impressive selection of locally brewed ales, ciders, and wines on offer you won't be stuck for choice. Whether you're a connoisseur of craft beer or a wine aficionado, there's something for everyone.
Word on the Grapevine
Cornish Foodie visits one Friday lunchtime to check out the rumours. We choose from the Sample Set Menu.
Whitebait, with spiced mayo and chives
Pan roast chicken with chive mashed potato, Cavolo Nero, braised onion
Newlyn day boat Pollock fillet with miso & hazelnut pesto, new potatoes, kale
Sticky Toffee Pudding with toffee sauce and Cornish clotted cream
We pick a refreshing Sauvignon Blanc from Chile to drink.
The quality of the ingredients was superb – melt-in-the-mouth! We particularly liked the well-balanced meal size and combination of flavours.
The hospitality and service were excellent. It's a skill many have forgotten in recent years, with the rush towards a fast food society. So, it made our day extra special to be able to sit and chat without being hurried.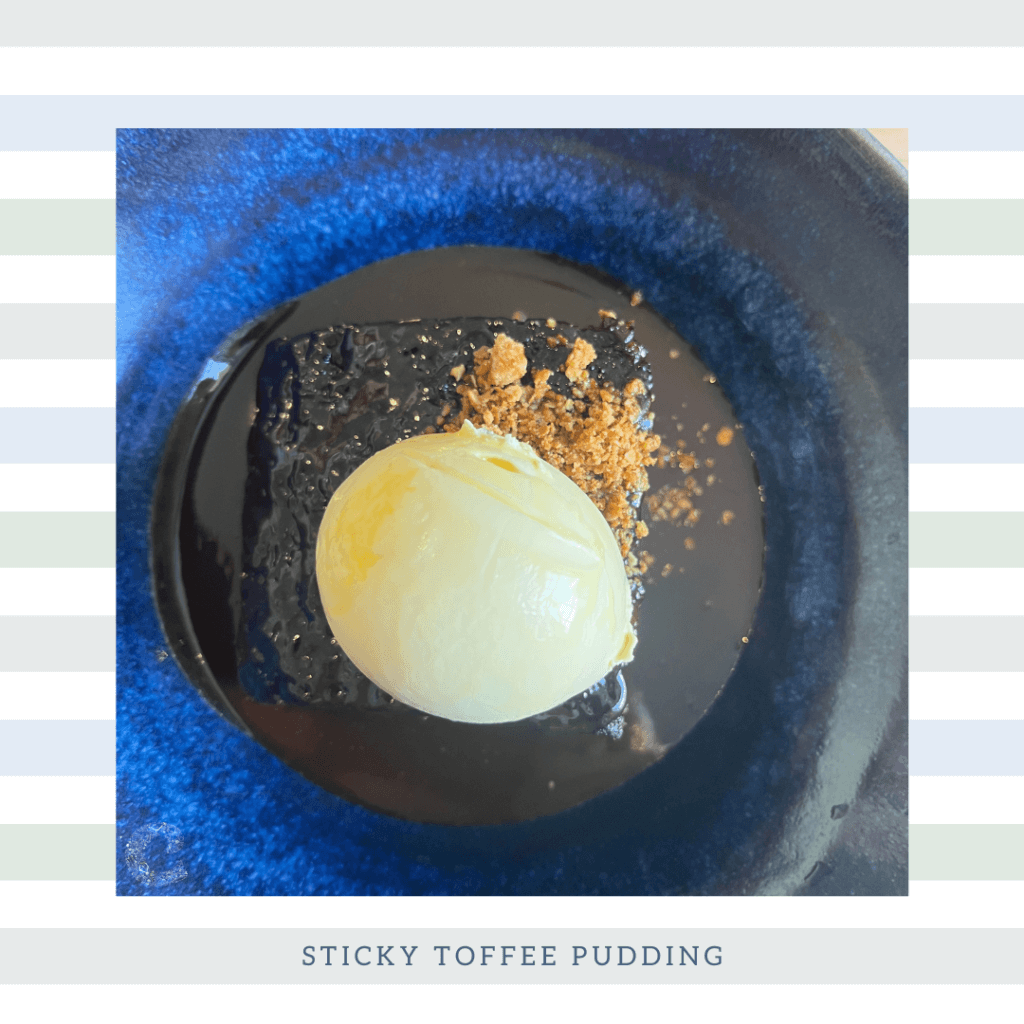 Quaint Cornish Seaside Destination Harking Back to Yesteryear
But the Barley Sheaf is not just a destination in itself. Its location just outside Gorran Haven makes it the perfect stop-off point for those exploring the nearby beaches and coastal walks.
After our lovely lunch, we decided to head down to the beach.
The village itself is a seaside sanctuary harking back to yesteryear. With a picturesque harbour, sandy beach, and ice cream shop, it feels as if you've stepped back in time. Back to a quieter, more gentle era.
The sheltered sands of the two beaches make Gorran an ideal destination for swimming and paddling. The clean water and soft sands encourage sandcastle building, beach games, and rock pooling. Perfect for buckets and spades!
A Culinary Adventure – Where to Eat in Cornwall For Foodies
So, if you're seeking a culinary adventure that's off the beaten path, consider the Barley Sheaf in Gorran Churchtown. Definitely answering the question of where to eat in Cornwall, here at Cornish Foodie we give it high praise.
With its commitment to fresh, locally-sourced ingredients, innovative menu offerings, and warm and welcoming atmosphere, it's no wonder that this off-the-radar delight is quickly becoming a go-to destination for foodies in the know.
From the exquisite seafood to the hearty meat dishes and mouth-watering vegetarian options, every dish is a celebration of the Cornish food scene.
So what are you waiting for?
Head to the Barley Sheaf, and discover for yourself why it's the perfect spot to indulge in the best of Cornwall's cuisine.