Cornish Ice Cream has been the thing I've been dreaming about for the last few months! Lockdown has restricted our movements around the Duchy, so a longer trip than 5 miles from home has been forbidden since just after Christmas 2020.
However, Spring 2021 has ushered in a warm sunny weather window, coupled with a slight relaxing of the COVID lockdown we've been under here in the UK. Good Friday dawns bright, with a breeze.
Furthermore, it's perfect weather to get out and explore.
Cornish Ice Cream Mission
I'm on a mission to get some exercise, fresh air and indulge in a bit of Cornish foodie fantasy. With months of being stuck at home, it is a golden opportunity to get out and about before the opening of hotels, guest houses and self catering accommodation.
And one of the things I have been dreaming about is that first taste of creamy richness that comes with the first Cornish ice cream of the season!
Having grown up in the Penwith district of West Cornwall, it's an area I know well. So, I head towards Penzance, with my main aim to drive onto Newlyn.
My loose plan is a visit to Richard's Farm Shop for a leisurely foodie indulgence, followed by ice cream from Jelbert's in Newlyn.
Richard's Farm Shop, Hayle
First stop on my road trip is to stock up on goodies at Richard's Farm Shop, just off the A30 at Hayle.
I know the Richard's family from my childhood growing up in the area. I went to school with the daughters of the family and we used to ride our ponies out together; a time of innocence before the advent of the modern era.
Although it is quiet with few people about, the store is welcoming. I am not certain what I want to buy, but do know I want to indulge myself in the pleasure of browsing.
So often we find ourselves tearing around and not taking the time to just "be". Life has been so busy for us all recently, it is a luxury to spoil ourselves.
It seems I've come to the right place!
Daffodils & Gin, Fridge Magnets Galore
Immediately, my eyes alight on bunches of daffodils still in tight buds grown on the farm. Stacked in boxes just inside the porch before entering, they are hard to miss.
A very reasonable price tag of 60 pence per bunch or £2.00 for 4; the vivid green stems and promise of bright yellow blooms call to me.
Inside, I have a leisurely path to follow around, taking me past an array of different products; a treasure chest of goodies crying, "Pick us, pick us!"
Drinks, both alcoholic and non-alcoholic, most with Cornish provenance line the well-stocked shelves. Bottles of every colour and shape, like jewels in a cask.
I move on skirting past Baker Tom's goods, jams and preserves, a stand full of birthday and occasion cards. Amusing fridge magnets and other knick knacks sit alongside. They have thought of everything.
As my mother would call it, a "damn it … I've forgotten …" shop!
Ice Cream, Frozen Foods and More
I wend my way around into the back of the store towards the fresh vegetables and frozen goods. There is a good choice of different frozen foods, including easy-to-use mixes to add to casseroles or stir-fries. Check out their fruit mixes too – ideal for smoothies, desserts, and wonderful fruit pies.
Needless to say that the fresh vegetables look amazing, and so they should, only having come a short distance. No worry over carbon footprint food miles here!
Entering back into the main shop, I spot a Simnel cake. Freshly baked by The Little Home Bakery, it promises all the spicy richness of Easter. With the lemon-yellow colour of eleven marzipan balls, representing the disciples (minus Judas, of course), my mouth waters in anticipation.
Somehow the cake finds its way into my basket! A quick chat with the lovely lady on the till and I am back in the car and on my way towards Penzance.
South Coast Cornwall – St Michael's Mount
Continuing along the road away from Hayle, exiting Crowlas, I crest the hill to be met with sweeping views across Mount's Bay. To my left is Marazion and away to the right is Penzance and Newlyn. On this sunlit day, the water sparkles on the ridges of the waves kicked up by the breeze. From here, St Michael's Mount looms large over the surrounding countryside.
The Mount has a fascinating history and as with all ancient places attracts its fair share of legends. St Michael is the patron saint of fishermen, so it will come as no surprise to know that the vision of Archangel Michael appeared to local fishermen to warn them of danger around the island.
Legend, Causeways and Ice Cream
St Michael's Mount is indeed an island, being cut off from the mainland twice a day. As the tides flow out, the cobbled causeway is exposed, allowing you to walk across. In case your visit overruns, little boats offer a taxi service when the tide is covering the causeway.
Legend has it that the causeway was laid down by Jack the Giant so he could plunder the surrounding fields for cattle, as a snack when he became hungry. I guess we shall never know the truth of this, but don't forget to uncover the giant's stone heart on your trip to the castle!
And don't forget to visit the food outlets such as the Sail Loft or The Island Cafe, where you will discover an array of Cornish food and drink. The Ice Cream Bike can also be seen trundling across the island, dispensing a variety of different flavoured Cornish ice creams.
From Marazion to Penzance With Golden Letterboxes
Running alongside the coast, the road enters Penzance close to the end-of-the-line train station, before bearing left along the harbour road heading for Newlyn.
Opposite the harbour where the Scillonian sails for the Isles of Scillies stands the golden post box dedicating the 2012 Olympic gold medal won by Helen Glover. The post box commemorates the win at the London Games for a first-ever women's rowing gold medal, won by Helen and her teammate Heather Stanning.
Helen is the daughter of Jim Glover, owner of Jelbert's Ice Cream where I am heading for my treat of the day.
Art Deco Lido Swimming
Continuing along the front out of Penzance towards Newlyn, I pass Jubilee outdoor pool. The Art Deco lido juts out into the sea close to the harbour and is the UK's largest seawater and geothermally heated pool.
This triangular pool contains 5 million litres of seawater drawn in from Mount's Bay, with water replacement happening naturally with the tides. The geothermal pool has natural saltwater heated to between 30-35 degrees by its own geothermal well.
The geothermal pool is so popular that tickets are sold out until the third week in June (at the time of writing).
Sadly, I am about 10 days too early for a coffee stop at the cafe, but do include it if you are out and about after the 13th April 2021. It is a perfect spot for catching sun rays with a stunning backdrop of St Michael's Mount.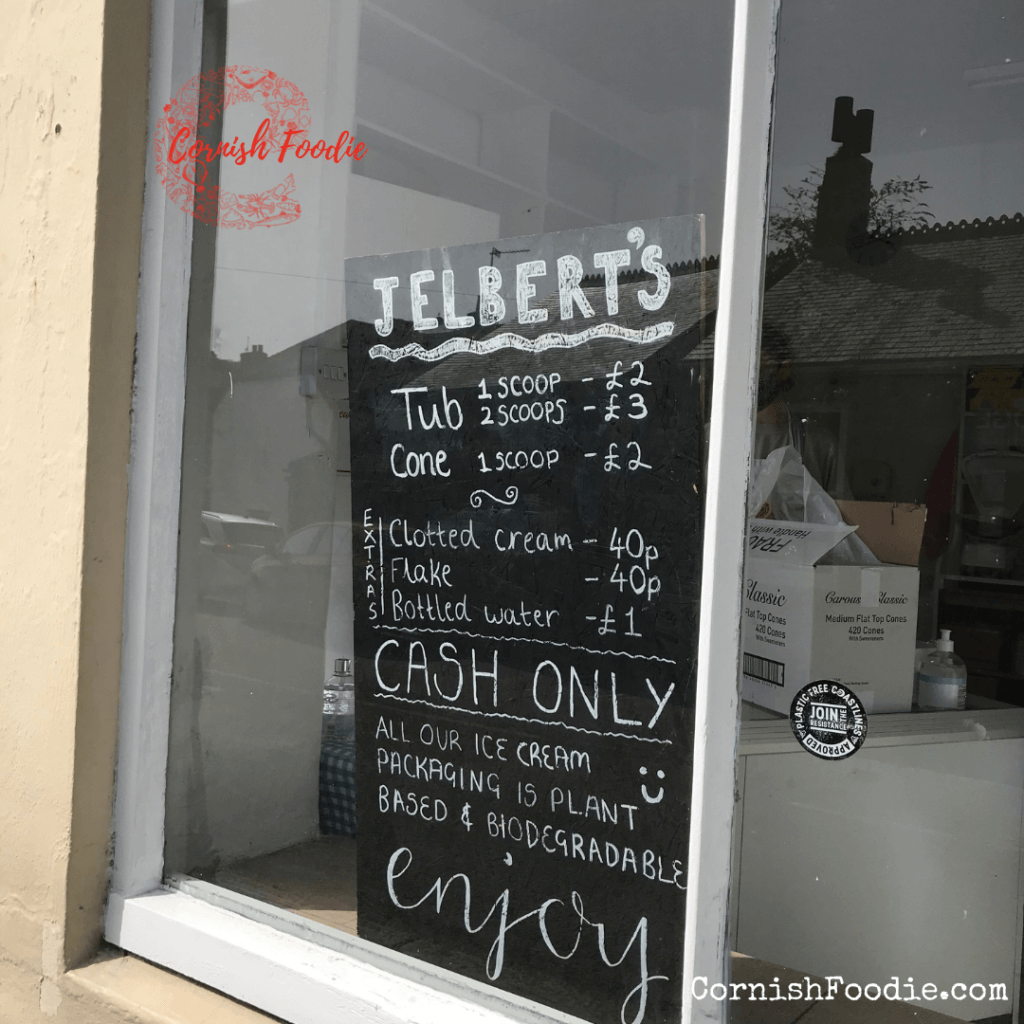 Fishermans Home and Jelbert's Cornish Ice Cream
As it is, I carry on towards Newlyn. Parking my car close to Alexandra Road, I walk the rest of the way into Newlyn along The Promenade. Fortunately, the brisk breeze doesn't detract from the gentle warmth of the sun. It is good to get out and feel the sunshine on my face and grab lungfuls of fresh air.
By the time I cut back in front of the Newlyn Art Gallery, I am ready for my Cornish ice cream. There is only one ice cream to eat if you are in Newlyn and that is Jelbert's.
Usually, you will find the queue snaking along the road, but, today I am fortunate. I only have to wait a few minutes for my scoop of locally made dairy goodness. I indulge in the addition of a Cadbury's flake. After all, I feel I have earned it with my walk along the seafront!
Cornish Vanilla Ice Cream and Chocolate Flake
I love the 1950's vibe the shop gives off. It's not fancy or fussy, just good old homespun. The ice cream is made fresh each day to the same family recipe, owner Jim Glover's grandparents perfected. The choice is limited to vanilla, number of scoops and whether you'd like the addition of Cornish clotted cream and a flake on top.
Locals know to ensure they get their ice cream fix in early, as once it's gone, that's it for the day.
Fisherman's Memorial
Crossing back to the seaside of the road, I perch to eat my ice cream close to the Fisherman's Memorial. A life-size bronze fisherman gazes across towards the entrance to Newlyn Harbour and on out to sea.
And the Cornish Ice Cream?
The ice cream doesn't disappoint. Nor does my seat, as I survey the coastline from The Lizard way up to my left-hand side and follow the direction of the fisherman's arm beyond the sheltering curve of Newlyn harbour.
What a glorious day to be out and about! Simple pleasures of sunshine and Cornish ice cream combine to create the magic of time travel – back to childhood memories of love and family.
What are your favourite ice cream memories? Why not let me know in the Comments below, or on our Facebook page.
Check out our blog for more Cornish Foodie outings you are sure to enjoy.
---
Why Not Stay in the Area?
Penzance and its surrounding villages are underrated. From the tiny fishermans village of Mousehole to the golden beach of Praa Sands, Porthleven and beyond, you can be sure of a warm welcome.
You'll discover a wealth of dramatic coastal walks, hidden valleys and unspoiled countryside.
The history of Cornwall is found in this region, with tin mining, fishing and farming wrapped up in beautiful homes waiting to welcome you.
Disclosure: Bear in mind that some of the links in this blog are affiliate links and if you go through them to make a purchase I will earn a commission.
Keep in mind that I link to these companies and their products because of their quality and not because of the commission I receive from your purchases. The decision is yours, and whether or not you decide to buy something is completely up to you.
---