Cornish Drink – The Essence of Cornwall in a Glass
Inspired by the landscape, coastline and its people, Cornish drink – it's rather a broad term – covers everything from the most alcoholic to the humblest of everyday drinks … yes, even a cup of tea!
Believe it or not, tea is grown here in Cornwall, as you will soon discover.
But, more of that later.
Ales, Beers & Cheers
During my research for what constitutes a Cornish drink, I've uncovered a multitude of small microbreweries, vineyards, orchards & spring water sources.  
Their individual stories of creativity and ingenuity makes for a fascinating tale.
The oldest brewery, The Blue Anchor in Helston, began life as a monks' rest for pilgrims walking to and from St Michael's Mount in Marazion.
The monks' discovered a happy clash of monastic spiritual life, along with caring for the poor. By combining spring water with a mash of grains, they were able to sell "liquid bread" to the pilgrims as a form of sustenance on their travels.
Meanwhile, the monks' enjoyed the second "brewing" for themselves. After all, it was safer to drink beer than water in those days!
Today, The Blue Anchor is still going strong, albeit online for the time being, and producing its famous Spingo Ales. Apparently, the name Spingo is derived from the word "Stingo", used to describe a strong beer. It is thought that it comes from the sharp or "stinging" flavour of a well matured brew.
The other delightful clue to the longevity of the pub's success, is that they brew their beer using spring water drawn from their own well. Up until the middle of the 18th century, the beer was brewed in the pub itself.
Of course, not all breweries have such historic roots, but they've all got engaging stories. I look forward to sharing them with you in future articles.
I Am a Cider Drinker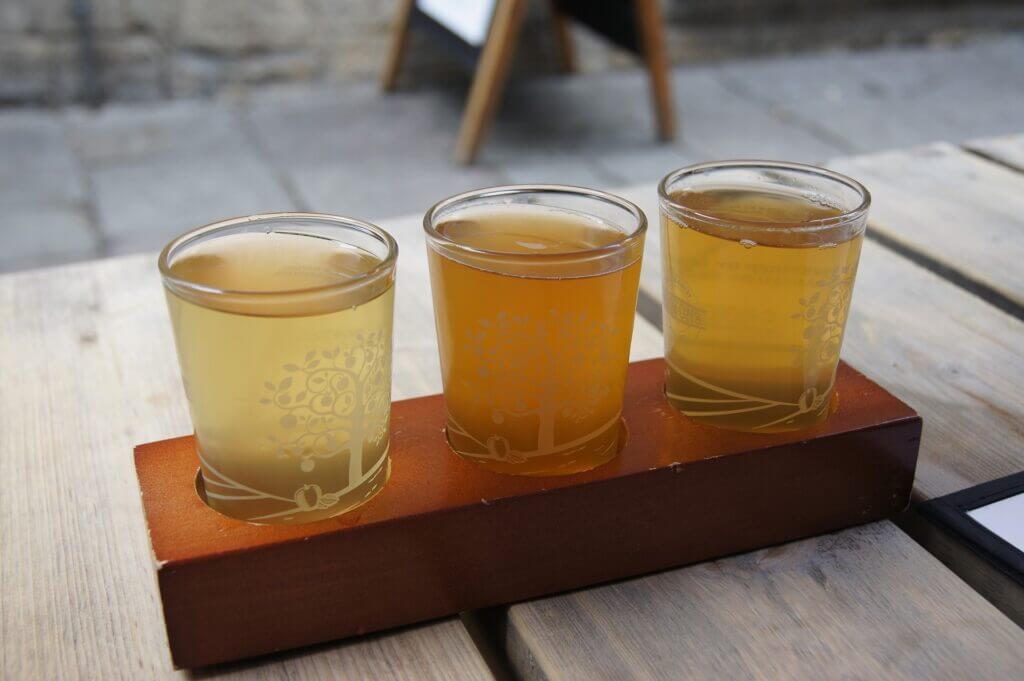 The song title above was written, somewhat in jest, by The Wurzels back in 1976. Not only did the song make light of country life, it firmly placed this much maligned drink at the bottom of the sophistication queue.
Today, thanks to a refined marketing campaign in the 80's for Magners, cider has finally put to bed it's 'primitive' label.
Like beer, cider making has been around for many centuries. It was common practice for farmworkers to be paid using the drink in bygone days – imagine being paid in cider these days! Brings a whole new meaning to "liquid gold".
Present day cider makers are artisans, creating a range of quality products, both alcoholic and non-alcoholic. People choose to drink cider, rather than having to because water is unsafe. And what a choice they have here in Cornwall.
Possibly one of the most famous cider producers is Healey's. Their Rattler Original is named after the Cornish Rattler apple, making it a firm favourite for visitors and locals alike.
One of my favourite cider and apple juice makers is Wasted Apple Co. Their handcrafted Cornish cider is made from apples that would have been discarded. That is to say, not because the apples are bad, but there are always far too many grown.
Wasted Apple Co collect apples from gardens and orchards across the Duchy to make their beautiful drinks. What could be better?
Clearly, I have only just touched on the subject. There is so much more to reveal and I can't wait to bring light to the industry here in Cornwall in the coming weeks and months.
Cornish Drink – Pirates of a Modern Age
No spotlight on the Cornish drinks scene would be complete without a mention of the wonderful array of spirits distilled here.
From brandy to vodka, gin, rum, liqueurs, whisky and moonshine – we produce it all!
It seems fitting, given our history of smuggling, that today we are legally taking advantage of the surge in popularity of craft and artisan spirits. Consumers are buying into the provenance of ingredients and history of the land on which they are grown. The stories are compelling.
Speaking Cornish Potato – Aval Dor
Take the humble potato for instance. Who could have imagined that an everyday vegetable could be sold as vodka?
Aval dor is Cornish for potato.
Aval Dor Original vodka is award winning. Potato and mineral water from deep below the farm combine to produce a smooth, creamy flavoured Cornish drink charming international taste buds! It rightly deserves its place in the sun.
Gin Sling Anyone?
The upward trajectory of gin since 2008, has been nothing short of miraculous.
The challenge to repeal the Sales of Spirits Act of 1751, commonly known as The Gin Act, saw one man, Sam Galsworthy, unleash creativity previously hidden in this once glamorous drink.
The 1751 law came into being to regulate illegal distilleries creating gin without juniper and adding noxious substances like turpentine and sulphuric acid. Whilst the annual licence fee was reduced, the law forced distillers to sell to licenced retailers only. Gin drinking waned, to the point where there was only a few recognisable brands in the late 20th century.
Driven to improve gin's declining reputation, Sam spent 2 years petitioning for a change in the law. Successfully liberating the industry, sales of gin have been on the up ever since.
And So To Tea
As previously promised, I bring you tea from Cornwall.
It seems appropriate that Tregothnan, Lord Falmouth's estate, provides the backdrop. It is the largest and most stately of all our historic houses, having been in the same family since 1334.
Previous ancestors took many grand tours to exotic destinations, bringing back unusual plants, amongst them ornamental Camellia, Azalea and Rhododendron.
Today, searching for a crop that could expand their business, Tregothnan gardeners recognised Camellia sinensis bushes may also flourish. This type of Camellia produces a leaf capable of being brewed.
The shrubs thrive in our slightly acidic soils; damaging salty air is removed by the humidity, allowing bushes to grow in the moist Cornish air.
And, what a sight to behold they are!
Growing in ranks in fields edging the River Fal, these particular plants produce a superior tea blend. Enjoying the same equable weather conditions as the foothills of the Himalayas, only 150 acres of land are suitable.
Who would have thought that the wife of Charles II could have introduced our tea passion? In those days it was so expensive, they kept it under lock and key. Today, we grow our own precious crop.
If you've enjoyed this quick introduction to the world of Cornish drink, why not explore in more depth through our blog? Or join us on Facebook for updated stories of food and drink in Cornwall.