Cornish scones. Surely one of the most iconic ingredients in Cornwall's foodie scene. Along with a Cornish Pasty, of course!
So, how did this small, round, dough-like 'cake' become one of the first things people consider eating when coming to Cornwall? And what's the real difference between Cornish and Devon cream tea scones?
Of course, there are far more weightier questions like, 'Do you put the strawberry jam or cream first on scones in Devon or Cornwall?' which we will come to shortly. But, I'm intrigued by how something that started life in Scotland as an alternative to bread became part of a double act with Cornish Cream.
I dive into the history books and travel the highways and byways of Cornwall. Along the way, I discover how one Cornish company has taken the humble scone and turned Cornish Cream tea by post into an art form.
So, grab a cuppa, get cozy, and let's unveil the magic together.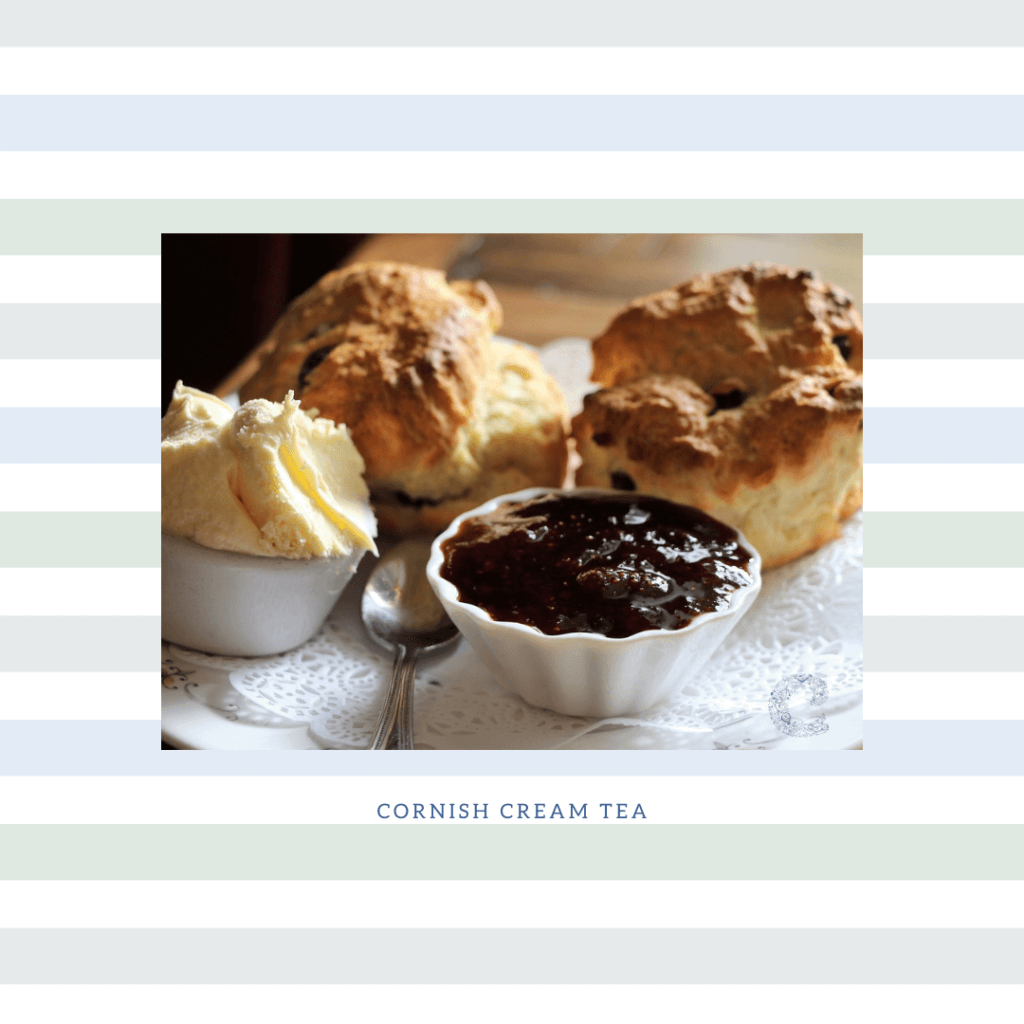 The Evolution of a Delight: From Crustades to Fluffy Scones
The history of these delectable teatime treats can be traced back to the 16th century when the first scone-like breads emerged in Scotland. Originally known as "croustades" or "crustade," they were simple, unleavened rounds of dough cooked on a griddle.
Over time, as baking techniques evolved and ingredients became more readily available, these humble crustades transformed into the fluffy, golden scones we know and love today. The precise origins of the name "scone" remain a subject of debate, but one thing is certain: Cornwall has played a significant role in their present-day success.
A Simple Scone Transformed into a Cornish Cream Tea
There are some suggestions an early form of cream tea surfaced in Devon at Tavistock Abbey in 997AD. Bread spread with cream and topped with jam was a simple snack offered to travellers by the monks. This is likely why Devonians put cream on first and plump for the jam on top. Yes, the age-old debate lives on!
However, it wasn't until the 1850s, when the railway brought the first visitors to Cornwall, that the afternoon cream tea treat as we know it took off. At the time, tea rooms were beginning to spring up as a genteel way for ladies to bridge the gap between lunch and dinner.
Today, even tea is grown here in Cornwall! Tregothnan estate, home of the Lord's Falmouth, grows tea on the banks of the River Fal.
But, I digress. What of today's scone scene?
A Heritage of Baking Topped Off with Roddas Cornish Clotted Cream
What makes Cornish scones truly special is the love and passion infused into every knead of the dough and every pin roll. As well as, of course, the famous clotted cream topping!
Along with the Cornish pasty, our baking heritage is one to preserve. Passed down through generations, these cherished recipes have become treasured family heirlooms, keeping the essence of Cornwall's baking traditions alive.
Here's Rodda's (the most well-known of the local dairies selling clotted cream) recipe for Cornish scones. They are simple in construction. Yet, it's their very simplicity that strikes doubt into novice bakers. Take a look at how Roddas make them:
Mary Berry, she of the 'soggy bottoms' pays close attention to detail. Take a look at her recipe for plain scones here.
Baking At Grandma's Knee: How One Family Recipe Inspires Business
Researching companies who make 'proper' Cornish scones, I stumbled across The Cornish Scone Company.
It is this same sense of history and tradition that drew me in. Karen learned to bake as a young girl with her grandmother beside her. Her grandmother's recipe inspires Karen each day, as she produces a range of different flavoured homemade scones, as well as traditional ones.
As with all successful companies, her passion for the freshest quality bake keeps her going.
Love Of Cornish Scones and Dash of Family Fondness
The Cornish Scone Company was born when her parents moved away and missed their afternoon treat. As a special surprise, Karen baked and posted a batch of scones. The rest, as they say, is history!
Today, Karen bakes all her delectable afternoon treats herself, with the exception of Cornish pasties.
But fear not, if you choose one of the Cornish Scone Company hampers with a pasty included, it will be baked to the same high standards Karen sets for herself. Teaming with a local pasty maker allows Karen to play to her strengths.
The Cornish Scone Company deliberately remains exclusive. They limit the number of orders daily so customers receive that handmade scone treat fresh from the ovens.
Karen says, "I am very confident in the quality of my bakes, and that's what makes us stand out from most of the other online Cornish cream tea providers. I still bake them all myself. Other companies buy them in. You won't get a factory mass-produced scone from us."
When I asked Karen what's next, she replied, "I don't want to go down the route of huge expansion. This business model works very well for me, and I don't want to lose that personal contact with my customers."
"I'm going to keep doing what I'm doing. There'll be more exciting new twists on the traditional Cornish cream tea. The rock cakes are becoming very popular, so I'm thinking about introducing new flavours, maybe ginger & dark chocolate and cherry & almond."
Not a Fan of Traditional Flavours?
Not keen on the traditional plain or fruit scones? Why not give new flavours such as Banoffee, Biscoff, lemon & poppyseed, chocolate, lavender & honey a try instead?
Karen's ideas often come from simple pleasures.
"The lavender idea came to me when I cut some lavender in the garden to hang up to dry. My mum loves lemon cake, so that inspired the lemon and poppy seed.
"Hubby loves Biscoff biscuits and was given a Biscoff hamper for Father's Day a few years ago. I thought the spread would be an ideal topping for a warm scone, so I experimented until the Biscoff scone was born.
"Banoffee, well, who doesn't love Banoffee, and you can't always make banana bread when the bananas are past their best!
"I don't always look for new ideas, but they seem to happen."
Cornish Foodie is sure Karen's cream tea hampers will go from strength to strength.
Savoury Cheese Scone, Fruit Scone, or Plain Scone: Which Will You Choose?
Obviously, a proper Cornish scone can be all of these. Even a Cornish split; the sweet, smooth, soft dough bun served with golden syrup and Cornish clotted cream.
Delightfully, this form of the better-known scone is called Thunder and Lightning! Check it out when you next reach for something different.
And what if you're searching for vegan cream teas? You're not forgotten! Afternoon tea hampers filled with treats are perfect for a summer picnic. All without the cream element, of course.

However, check out this simple vegan clotted 'creem' recipe from The National Trust if you want to add the creamy aspect. It ingeniously incorporates plant-based margarine, vanilla essence, icing sugar, and a dash of oat milk. I think you'd be pleased with the results.
From Tradition to Innovation: Crafting Cornish Scones with Heart
And there you have it, my fellow scone enthusiasts! From the rich history of these delightful teatime treats, passed down through generations, to the perfect blend of tradition and creativity that makes Cornish scones truly special.
If you're yearning to taste Cornwall's heart and soul, look no further than The Cornish Scone Company. With their exclusive focus on handmade, quality bakes, you're in for a treat that will transport you to the heart of Cornwall with every bite.
Indulge in the art of Cornish cream tea by post and experience the magic firsthand. Let the warmth of family traditions and the joy of delicious flavors envelop you as you relish the simple pleasure of a perfectly crafted Cornish scone.