A Cornish Pasty – iconic symbol of Cornwall's mining past. Today this scrumptious meal encased in golden pastry is more than simply a relic of a bygone era.
There's nothing better than the anticipation of biting into the unctuous blend of meat, swede, onions and potato in a traditional pastry case. However, the skill is in the blend, and of course, in the finesse of the pastry maker.
Today Cornish pasties are one of the most well recognised food and drink products in the UK with a highly acclaimed Protected Geographical Indication badge (PGI). This means that only pasties made in Cornwall can be called Cornish.
The Cornish Pasty Association has worked tirelessly over the years to gain this accolade for the humble lunchtime treat. Thus setting out strict standards of ingredients and methods of production. And ensuring that only the very best pasties are served to us, the consumer.
Potted History of the Cornish Pasty
As you may well know, a form of pasty has been around since the 13th century. More often eaten by landed gentry and royalty than by the average man, they were filled with rich meats such as venison, beef, and lamb.
Pasties eaten by Cornish folk at this time would have been filled with vegetables grown locally, rather than meat. Definitely the forerunner to the vegetarian and vegan options.
But it wasn't until the 17th and 18th centuries that the pasty we know and love today came into its own.
Miners and farm workers would take the cooked pastry delight to work with them. I love that each pasty made carried the initials of the man or boy to whom it belonged!
The crimped edge allowed dirty arsenic-laden fingers to hold the pasty without fear of poisoning.  Then the edge could be safely thrown away.  Today, thankfully, we eat pasties without harm, as many say this is their favourite part. 
The Best Cornish Pasty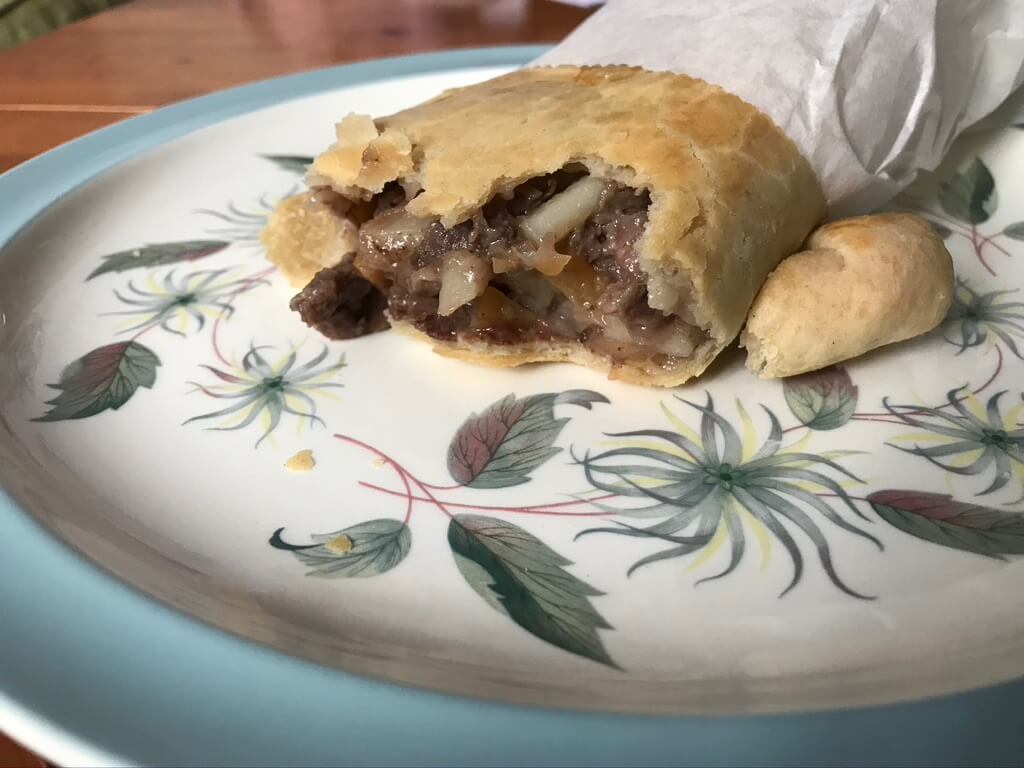 With a pasty shop on every high street in every town and village across the county, it would be very remiss of me to start a debate about the very best. Simply because everyone has their own particular favourite.
Furthermore, homemade pasties made from recipes handed down the generations are said to be the tastiest. And who can argue with that?
A proper Cornish Pasty – Ansom Edna Shows Us How
Let me introduce you to a wonderful lady, Edna, as she shows you how to make a proper Cornish pasty.
Edna is 94 in this video.  As well as making her family pasties, Edna is a fundraiser extraordinaire for our local Multiple Sclerosis charity, the Merlin MS Centre, St Austell.
Following a family loss, Edna has raised an astonishing £90,000 plus for this worthwhile cause. Cornwall has one of the highest incidences of MS in the country, so this facility is much needed. As well as Multiple Sclerosis, the Merlin MS Centre assists those living with Parkinson's, Strokes and Chronic fatigue syndrome (CFS).
Through sales of her knitted snowflake hanging decorations at Christmas time and Easter-egg holders in Spring, the family has been able to donate money towards the specialist treadmill in the physiotherapy unit.
I love Edna's giggles at the start of the video, and what about her delicious Cornish accent?
And The Winner Is …
Well, I think on this occasion, Ansom Edna's homemade pasty has got to be the winner! I promise I will do some more Cornish pasty investigations in the coming months. But, in the meantime, why not give Edna's pasty recipe a go and follow along on the video.
Edna's recipe is below the video, but here are my top tips for Cornish Pasty success.
Top Tips For Proper Pasty Perfection
Season well with salt and pepper.  Don't be shy with the salt and use Cornish Sea Salt for the best flavour.
Chip potato and swede – it cooks more quickly and gives the mixture that lovely fulsomeness.
Slice beef thinly, rather than cube or dicing.  This exposes more of the surface to the heat of the oven and will cook more quickly to give you meltingly tender meat.
Add a small teaspoon of Cornish Cream right before you are ready to seal and crimp. It adds flavour and helps generate a gorgeous gravy.
Brush with egg-wash for a golden brown finish.
Don't rush to eat it once it comes out of the oven.  Too hot and you don't taste the magnificence of your hard work! Relax and enjoy.  I promise you will not be disappointed.
Do let me know how you've got on in the comments below, or on our Facebook page.  I'd love to see your photos.
Questions? Why not Contact Me and I will do my best to help.