From Feast Night to Sunday Lunch Grass-fed Retired Dairy Cow Beef with Cornish Flavour and Provenance
Cornish Foodie's first encounter with Homage To The Bovine was back in the summer through a Feast Night. Held in collaboration with Philleigh Way Cookery School and hosted at The Cornish Place, the evening promised an outdoor experience like no other.
With my son William down staying for a couple of weeks, I thought it would be a great chance to splash out and have a bit of fun after the long months of lockdown.
William is an unapologetic carnivore, so it would seem the perfect melding of foodie tastes with exceptional beef cookery from Rupert Cooper, who specialises in woodfired outdoor feast nights.
Al Fresco Banquet
As the day of the feast progressed, so too did the threatening clouds. Early evening saw a light drizzle descending. By the time we arrived at The Cornish Place, the rain was coming down with a vengeance, with no let-up. It was as if the weather knew exactly what was happening that evening, and had decided to rain on everyone's parade!
Any thoughts that this wasn't the wisest thing to be doing in the countryside on a midsummer evening in Cornwall were soon swept away. True British grit and determination put paid to lingering doubts, as we all pitched in rearranging tables and place settings.
As the rain eased, the wine flowed. Even the sunset came out to soothe the somewhat frazzled beginning. And, if the sunset soothed, Homage To The Bovine beef could be said to unleash a taste-bud sensation.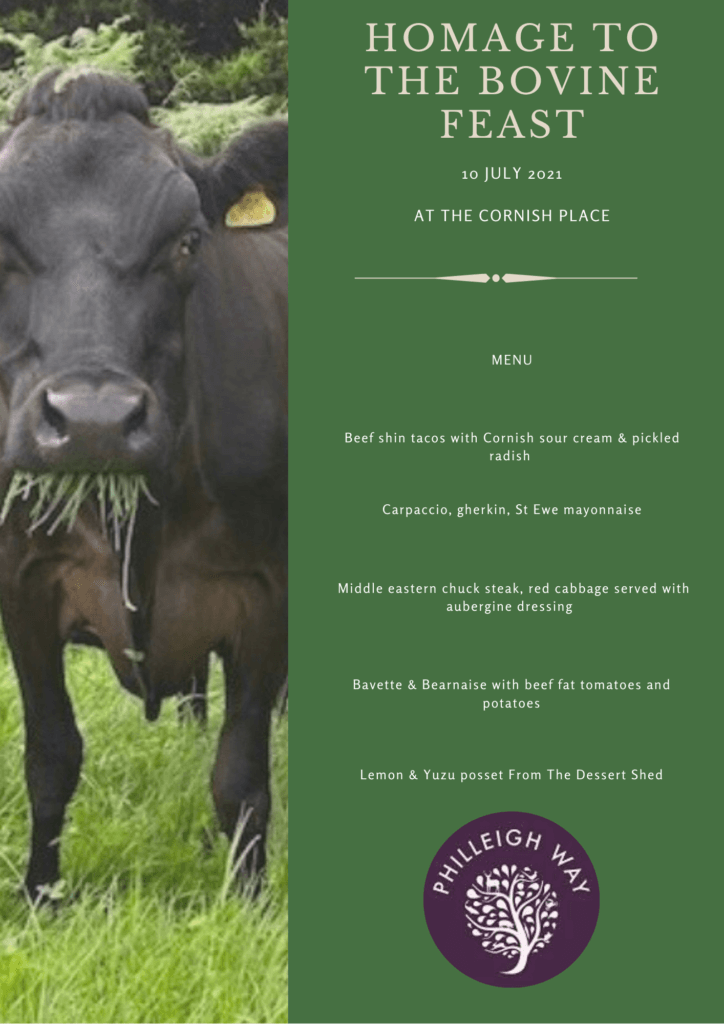 A Bevy of Beef with International Flavours
Delightful morsels of beef shin tacos came first, with Cornish sour cream & pickled radish. Carpaccio followed, along with Middle eastern chuck steak and red cabbage served with aubergine dressing.
Bavette & Bearnaise with beef fat tomatoes and potatoes concluded the homage.
Each mouthful of delicate, tender beef spoke of the careful husbandry of the meat, and of course the sensitive cooking.
Homage To The Bovine Grass-Fed Retired Dairy Cow Beef
So, what makes this beef so special? And, why are we celebrating?
Earlier this week I chatted with Debs Pryor about their wonderful grass-fed retired cow beef.
This time the sun was shining brightly as I stood with Debs on their farm looking out across rolling, emerald green fields towards Stithians Lake.
I wanted to understand the differences between an ordinary piece of beef and Homage To The Bovine's grass-fed retired dairy cow beef.
Debs explained that their philosophy was simple – it all starts with quality grass. Quality pasture leads to happy, healthy cows reared in as stress-free an environment as possible.
Quality Grass-Fed Dairy Cows
Have you heard of the saying, "You are what you eat?"
In the same way we humans thrive on quality food, so the Homage To The Bovine herd of milking cows enjoy the benefits of fresh Cornish air, grazing on quality pastures.
They enjoy as short a walk to the milking parlour as possible, and a long retirement once they have ceased producing milk.
Back out on those luscious green fields for their well-deserved rest, they spend up to 18 months grazing with nothing more arduous than considering which patch of grass is their next mouthful.
This relaxed grazing time is important to ensure the cow has time to put on fat and muscle. For the food on your plate, this retirement time will reward you with meat of a darker colour, creamy yellow marbling, and enhanced flavours.
Initially aging the beef on the animal helps produce tender and flavourful mouthfuls. Together with being hung for at least 28 days, careful management pays dividends.
Where to Buy Homage To The Bovine Beef
If you can't wait to taste Homage To The Bovine beef at their 2022 Feast Nights, why not get down to The Food Barn at Flushing? Held every Saturday, the farmer's market showcases small, local businesses.
What better way to shop than out in the fresh air, browsing the myriad stalls? You get to talk to the people who grow or source the product, ask questions, and see the passion in their faces.
Cost-wise your meat will be similar to what you may find in Waitrose or Marks & Spencer. Quality-wise, and provenance, though, bear no comparison to meat found in supermarkets.
Your Homage To The Bovine meat will travel further than it has ever done before with you taking it home from Flushing! Just imagine where your supermarket beef has been, and how many food miles have been racked up along the way.
From The Farm to Your Home
Homage To The Bovine is very much a family affair with Debs sister-in-law, Louise, behind the stall. Louise is in charge of overseeing all aspects of sales, whilst Nathan (Debs husband) is hands-on with the cows themselves.
You can also choose to order your meat from the online shop, and pick it up from the farm itself. You'll get the opportunity to see exactly where the animals have lived, and to meet with the family.
Knowledgeable, interesting, and with a desire to provide the very best meat, your experience of Homage To The Bovine grass-fed ex-dairy cow beef will not let you down.
Want to be the first to know about upcoming events and feasts? Sign up for our newsletter by clicking here.
---
The Cornish Place – Luxury Cottages and Self-Catering Holidays
Philleigh Way Cookery School – Cornish Cookery School and Food Experiences