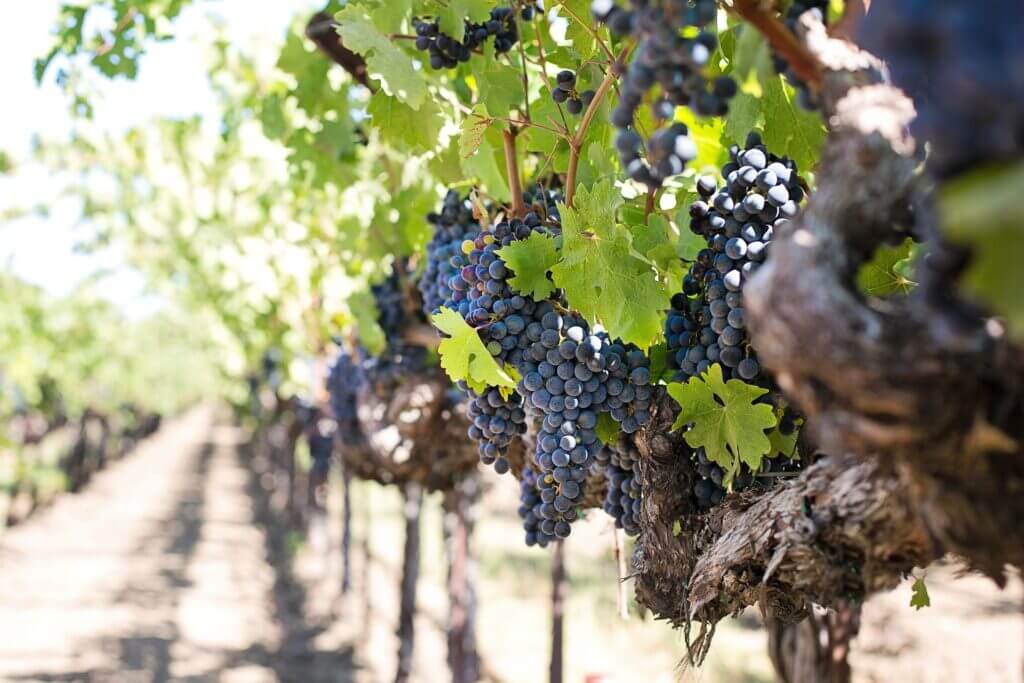 English Wines of the Highest Calibre
Cornish wines may take you a little by surprise if you don't already know quality wines can be grown and produced in Great Britain. For years English wine has been the butt of many jokes, but a combination of climate change and improvements in viticultural practices has allowed the humble grape to flourish.
Most of the English wine-growing activity is along the south coast of England, namely Kent, Sussex, and Hampshire. These wines are now amongst the best in the world, winning awards and a legion of followers. But Cornish wines are beginning to make their mark, too.
With the G7 Summit held in Carbis Bay recently, many of the food and drink producers in the county have been in the spotlight. Not least amongst them Knightor Winery, who supplied wines to the dinner held on Saturday night at Eden Project.
Whilst The Queen and Prince Charles have supped on Cornish wines before, many of the other guests will have been surprised by the quality and range of wine on offer.
Following on from the success of G7, this week marks #EnglishWineWeek 19th – 27th June 2021. What better way to celebrate than to learn more about our homegrown Cornish wines. And to try a glass (or bottle!) of something different from your go-to?
Interestingly, Bob Lindo of Camel Valley Vineyard, near Bodmin, came up with the idea of celebrating all things English wines. Based on his time as a GPO apprentice (now BT) when they used to open local telephone exchanges for visits, his suggestion of focusing attention on vineyard visits took off. The rest, as they say, is history!
More about Camel Valley wines another day, as I want to share with you a wine tasting and cellar tour I recently did at Knightor, near St Austell.
Knightor Winery Tour and Tasting
Not only is it unusual to drink Cornish wines, doing a wine tasting and tour is also something new.
For many years the French and South Africans have been at the forefront of showcasing their wines by hosting tours of their vineyards. Tasting rooms have also become the norm so you can immediately buy from the cellar door once you have identified your favourites.
Their delightful chateau settings, complete with rows of vines, have given us experiences we treasure. Drinking the fruits of their labours bring back happy memories of celebrations, holidays and freedom.
And so it was that I ventured to Knightor Winery recently. Through many years of wine tasting in South Africa and other countries the experience has been firmly planted in my mind as something very pleasurable!
I was keen to discover if Cornish wineries could live up to the memories!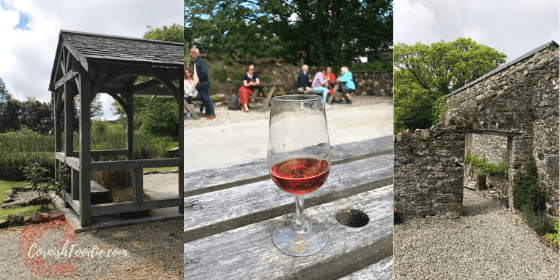 Cornish Wines with Cornish Tradition
Nestled in the hills above St Austell Bay, close to Eden Project, Knightor Winery is hidden away in a tranquil setting. Traditional granite barns house the winery itself, whilst the manor house presides graciously over the yard.
The wine tour itself is relaxed but informative. Sitting outside the wine shop in unexpected sunshine, the winemaker, David, gave us a potted history of the vineyards.
Although the vines are not in the fields surrounding the winery, they are in two locations closer to the coast – at Seaton, near Looe and Portscatho on The Roseland. It is not unusual for Cornwall that micro-climates exist in little pockets dotted about the county.
This is a deliberate choice to ensure that the precious vines are growing in the very best soils and climate to produce top quality fruits. As a result, they help to produce lighter, fruitier wines.
Steel Vats and Oak Barrels
Moving across the yard to the winery itself, we begin to get an appreciation of the work needed to produce the finished wines.
After the long spring and summer months of nurturing the plants, protecting them from pestilence, disease and weather, the hard work begins with the harvest.
In spite of all the anxieties, it is an exciting time when teamwork is essential – everyone pulling together to get the grapes brought in from the fields. The first part of the process of making wine starts.
From destemming to crushing and on to fermentation, each stage of the process requires skill and expertise. The tall steel vats to the rear of the building house the white wines; the French oak barrels hold the red.
Finally, the wine is ready to bottle. The time to taste has arrived.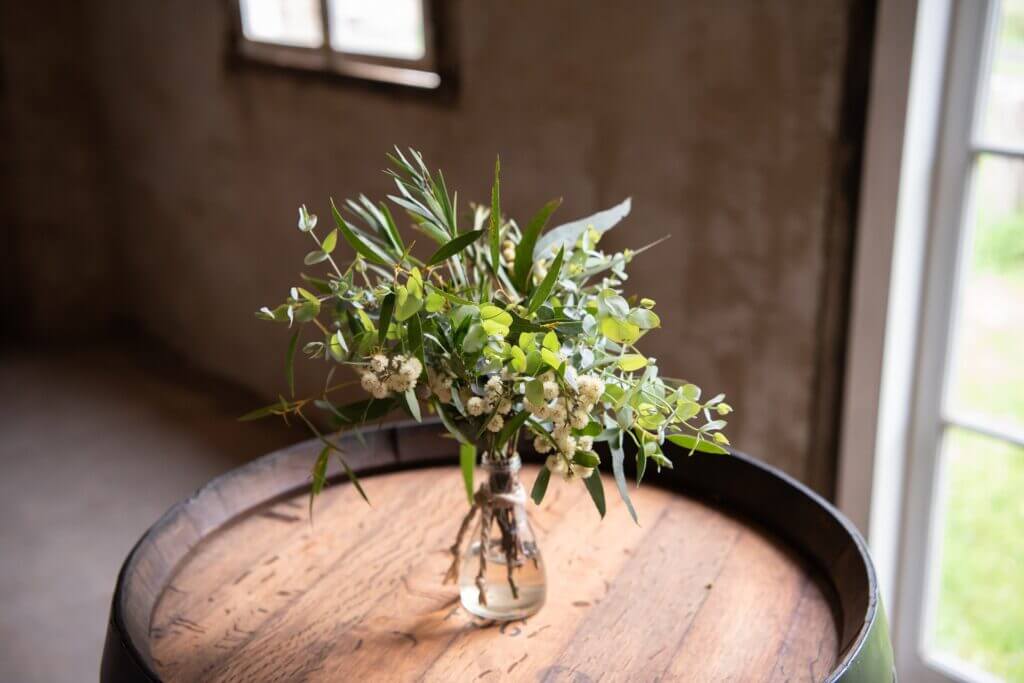 From Bottle to Wine Shop
Once again sitting outside, we have the opportunity to taste Knightor's sparkling wine, a still white, a róse, a red, followed by their innovative vermouth.
Their wines are all very drinkable! Perhaps that's an understatement, but I would defy anyone not to like at least one of the wines we tasted.
Carpe Diem Róse
The Carpe Diem róse I had tasted before was the reason I was curious to discover more.
This is the perfect róse to have on a summer's evening for pre-dinner drinks or ideal for a Wimbledon picnic along with strawberries and Cornish cream.
The still white Bacchus was a glorious pale colour that belied its aroma. Fresh fruity smells of gooseberry and elderflower, reminiscent of a New Zealand Sauvignon Blanc came to mind when I tasted. Although it reminded me of a Sauvignon Blanc, the Bacchus displayed none of the dryness most associated with that grape. Simply a refreshing mouthful of a delicate, flavoursome wine – dry, but not overly so.
Pinot Noir
The red, Pinot Noir, was delightful. Light, fruity and fun to drink. This is a wine you would definitely want to take to a party, especially if red is your favourite tipple! The cherry and plum characteristics are subtle, but not heavy.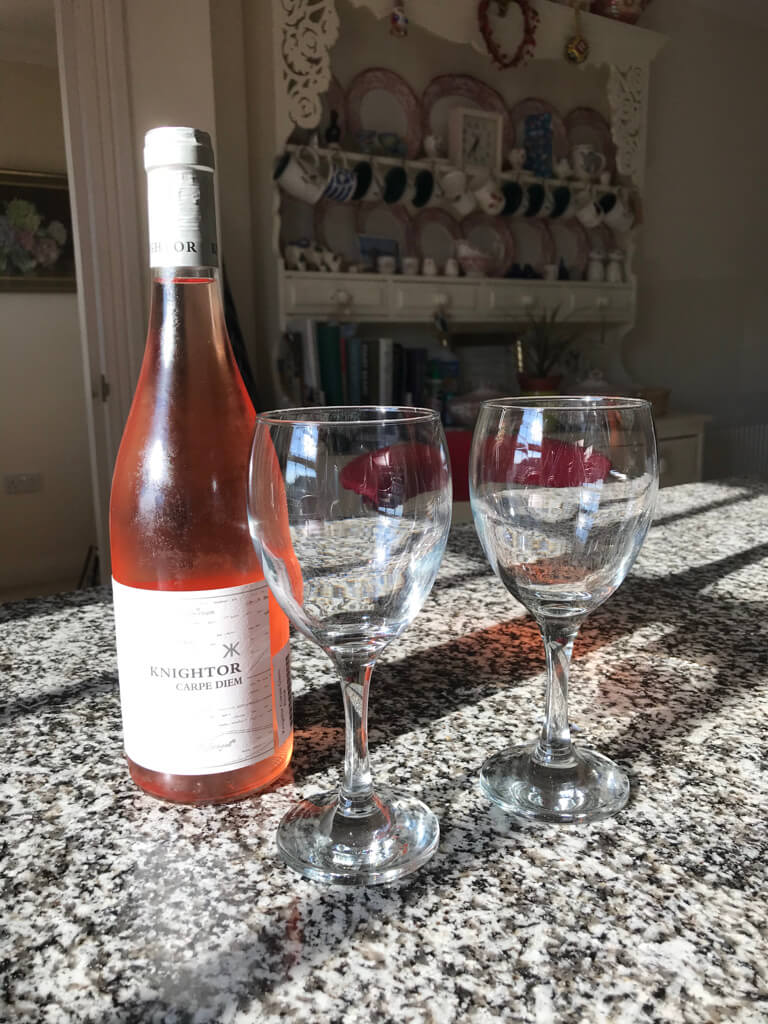 Sparkling Cornish Wines
Now, sparkling wine! A good friend of mine who lived for a long time in France always tells me that we should drink the wine of the country – a wine that is grown as close to where you live is best.
For all the right reasons, not least the food miles and carbon footprint, why would you not drink something as lovely as Knightor's sparkling wines when you think of purchasing a bubbly?
Sparkling Wine
The wine fizzed delightfully on my tongue with fresh fruit and flower aromas creating that distinctive toastie flavour of a méthode champenoise produced wine. Perfect for any celebration, especially as it is produced in the United Kingdom.
The real eye-opener for me was the vermouth. Being a teenager in the late '70s, I distinctly remember the advert for Martini Rosso with Joan Collins and Leonard Rossiter. Was this vermouth going to resemble that drink?
I was in for a treat!
Knightor's modern vermouth is a beautiful blend of herby, spicy aromas with a sweetness that is not cloying or overpowering. This is a drink that is versatile enough to be drunk on its own or used in a cocktail.
Knightor's Cornish Wines
Sitting in the early afternoon sun sipping my vermouth I felt proud. The county of Cornwall, so often thought of as just a bucket & spade holiday destination, is now producing some of the best wines in the world.
The industry has come a long way in the past 40-odd years from those rather grim first wines. Years of experimenting, tenacity and hard work are finally beginning to pay off. The vineyard owners who have sunk capital into their ventures are seeing their passion come to fruition.
So, did I buy our Cornish wines?
Of course I did! I came home with 7 bottles in total, including Carpe Diem, Bacchus, vermouth, Pinot Noir and another delightful still white wine called Trevannion. This wine is not always able to be produced, as the right conditions are not consistent.
However, 2019 produced a beautiful wine with a sweet story. Named for the mistress of a 16th-century owner of Knightor, her husband wrote, " I married a gentlewoman more for her worth than her wealth". Clearly, I will have to revisit to stock up, as her worth is a treasure.
To find out more about Cornish Foodie, I invite you to sign up for our newsletter and to connect with us on Instagram @yourcornishfoodie.
We'd love to hear your stories of Cornish wines you like, and of your wine tasting tours around Cornwall.
---
Why Not Stay in the Area?
There is much to see and do in this part of the County. Why not visit the historic port of Charlestown, a stone's throw from Knightor Winery? Poldark was filmed here, and the region has a wealth of great eateries, antique and gift shops.
Grand country homes or pretty fishermen's cottages – the choice is yours!
Disclosure: Bear in mind that some of the links in this blog are affiliate links and if you go through them to make a purchase I will earn a commission.
Keep in mind that I link to these companies and their products because of their quality and not because of the commission I receive from your purchases. The decision is yours, and whether or not you decide to buy something is completely up to you.
---