Fascinated by the surge of new Cornish craft gin distilleries burgeoning across the county, I am eager to investigate the modern-day drink and discover if the hullabaloo is justified.
As a young woman in the 80's, gin & tonic was considered to be a sophisticated drink as an apéritif before dinner.  Our elders often drank sherry, summoning images of Granny at Christmas, rather than the cool-girl about Town I undoubtedly thought I was!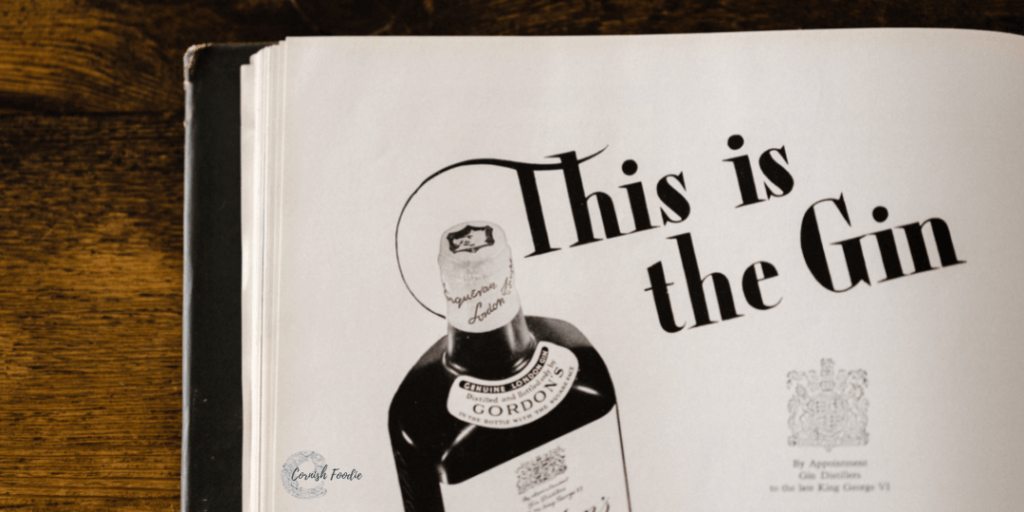 It's Got To Be Gordon's
One of the most recognisable gins was, and still is, Gordon's Gin in its distinctive green glass bottle. Accompanied with a standard Schweppes Indian Tonic Water poured over ice and a slice of lemon, a G&T was the epitome of early evening drinking across the country.
Despite me thinking it was a cool drink, gin sales were in decline at that time, and very much out of favour. Even though sophisticated adverts played in cinemas across the country, gin revenues slipped into the icy depths.
Variety was limited. Asking for a gin and tonic at a pub probably meant no choice.  If you were lucky you may have been able to request a Plymouth gin rather than a London Dry gin.
Glamour and Romance in A Sapphire Inspired Bottle
Until, that is, the introduction of Bombay Sapphire. Striking in its blue, square shaped bottle.  On the shelves of bars and pubs, Bombay Sapphire sparkled enticingly.  
The gin shone as brightly as the "Star of Bombay" sapphire given to the film actress, Mary Pickford by her husband, Douglas Fairbanks. Inspired by the glamour and romance of the silent movie era, the gin was hard to resist!  
The rest, as they say, is history.
Arcane Laws and the Advent of Craft Gin Distillers
It's hard to believe that law dating back to the 1700s held the gin industry as we know it today back from expansion.  That is until two pioneering distillers stood up to challenge the status quo.
Holding progress up was a duo of laws. The first stated that brewers could not also be distillers on the same site.  And the second law stated that a pot still could not be smaller than 18 hectolitres.
For my US friends, that is a massive 26.4 US gallons or 100 litres!  Behemoths in comparison with today's much smaller stills.  
Now, mini pot stills stand on work surfaces in gin schools, enabling enthusiasts to master the art. 
But, I digress …
Disputing the History of Hogarth
Famously, William Hogarth depicted the extremes of the time comparing beer with gin in his illustrations Beer Street and Gin Lane.
Beer Street justifies drinking beer as opposed to drinking gin with happy, healthy, and respectable citizens.  Whereas it has to be said, Gin Lane was shocking in its depravity, and hastened changes to the law.
By 1751 and the 8th attempt to settle the Gin Act, swingeing duties and restrictions on the size of stills had been imposed.
Standing Up to the Challenge – Craft Gin Resurgence
By 2006 North America was beginning to experiment with botanicals, creating lighter juniper-based gins. With greater focus on additions such as lemon peel, orris root, angelica, and coriander, the opportunity for change was seized.
Unrestricted in the way we were here in the United Kingdom, the American craft gin industry was taking flight. Two young friends working in the States at the time fell in love with the idea of opening their own distillery here in London.
Once back in the country, the reality of acquiring a licence hit the buffers.
Challenging the size of pot still needed to create their craft gins, Sam Galsworthy and Fairfax Hall of Sipsmith's Distillery took on Her Majesty's Revenue & Customs.
And thank goodness they did!
Having to appeal the ruling that their gin was illegal, Sipsmith's finally went into production in 2009, opening the floodgates to craft gin manufacture across the country.
Today the British gin industry is thriving with hundreds of different styles and flavours. Enough to suit every taste bud and palate imaginable.
So What of the Cornish Craft Gin Scene?
Surf Boards & A Suitcase
It wasn't until 2012 when Tarquin Leadbetter felt the pull of his roots (and the surf!).   Hot-footing it back to Cornwall with a dream to establish the first new distillery in over 100 years, Tarquin developed the first of his famous, award-winning gins.
As a classically trained Cordon Bleu chef (we have a lot in common …), Tarquin has led the charge of the Cornish craft gin industry with his understanding of botanicals and blends. 
By fusing tradition with progression, Tarquin's Gin has gone from strength to strength and is now one of the most recognised internationally of the Cornish craft gins.
Roaring Twenties – Think Jazz Clubs and Cocktails
With the shackles of austerity, war, and pandemics cast aside (for the time being, at least), gin-based cocktails came into their own.  Americans delighted in dancing the night away with a cocktail in their hand, forgetting their worries and strife.
Bartenders concocted ever more elaborate blends with fantastic names that begged to be drunk with abandon. As Prohibition struck, many of the top mixologists of the time slipped away to London, bringing with them their skills and expertise.
Back here in Cornwall, Norman Trevethan was distilling his own gin.  As a chauffeur to Earl and Lady St Germans of the Port Eliot estate near Saltash, Norman was exposed to high society London at a time when gin cocktails were 'the thing'.
Homebrew to Sophisticated Spirit
Homebrewing was normal practice within rural households at that time. Using fruits and vegetables, households were able to create wines and drinks to share on special occasions.
Using his Cornish rural upbringing and his knowledge of hedgerow botanicals, Norman perfected a recipe mimicking the best gins of the time.
2015 saw Robert Cuffe rekindle the old recipes of his grandfather, bringing the Trevethan distillery back to life.  Handcrafted using botanicals picked from local hedgerows, Trevethan gin recaptures the spirit of the Roaring Twenties.
Cornish Craft Gins with Fascinating Stories
I think it's safe to say that the Cornish craft gin industry is thriving. 
Each distillery has its own story, tastes, and history.  Colwith Farm uses alcohol distilled from their own Cornish potatoes, for instance.
With many more Cornish craft gins to explore, I can't wait to bring you those stories.  Make sure to check back frequently, or subscribe to our newsletter for updates.
If you liked this article, please do comment below, or share on social media.
---
Why not come with me on my awayday to Penzance with a gin tasting experience at A Pocketful of Stones?